Hi! I'm currently reworking my site, so although this content is still online things may change or look odd. Please get in touch to find out how I can help you!
New Adventures In Web Design 2012

Following on from the successful first event - my first ever web conference - in 2011, New Adventures made an equally successful return with their 2012 installment last week.
The first event set some very high standards in terms of the quality of the talks and the general attendee experience so I was eager to see what Simon, Greg and the team would manage to pull off this year.
Anticipation
After what seemed an eternity of waiting and tweeting about how much we were all looking forward to it, including almost double-booking my hotel room because I forgot I booked it way back when I got my ticket, the event was finally upon us.
Like the first event, the conference-eve social was ably handled by the Erskine Design team in the form of Erskine Bowling. I missed out on actually being in a team again but there was plenty of opportunity to meet, chat and catch up, as well as the excellent idea of being able to pre-register for the conference itself which certainly made things easier in the morning.
The day
Having braved the infamous Holiday Inn Express breakfast, we made the short trip over to the Albert Hall to be greeted by a crack squad of volunteers who quickly shepherded us through into the lobby for an extra hit of caffeine and the chance to have a quick mingle. I must give praise to the Albert Hall staff for their efficiency and politeness at this point - it's a small thing but it all adds to the overall experience of the day for me.
Once we were all settled Simon kicked things off with a quick introduction before handing over to the first speaker...
Dan Mall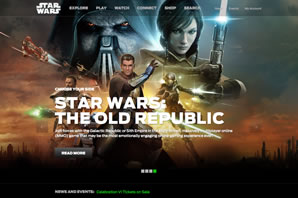 Dan's talk was one of the ones I was most looking forward to, having admired his work for some time. I mean, the guy redesigned the Star Wars website - you don't get much more geek kudos than that!
Dan's talk was titled "Design-ish" and explained some of the design-related lessons Dan has learned from working with clients like LucasFilm and Crayola. What I thought was really great was that Dan gave us a behind-the-scenes look at his working processes, discussing things that worked well and things that didn't work so well in equal measure.
A good example of this is when he spent hours trying to come up with some kind of way to map the relationships between Star Wars characters, only to be blown away by the knowledge that his contact at LucasFilm had amassed off his own back. The lesson there was that we should get to know our clients as well as possible, because their knowledge of their domain will always trump what we can come up with through an algorithm.
I got to chat with Dan in the evening and he said he was really nervous about giving that talk for obvious reasons - standing in front of 600 of your peers and telling them your failures is the stuff of nightmares for a lot of people! But I'm really glad he did it because the lessons learned are incredibly valuable and for most of us having access to that kind of knowledge without the pain of learning the hard way is rare indeed.
Naomi Atkinson
Next up was Naomi, who essentially gave a masterclass in self-branding for web folk, as well as a call-to-arms for the web community as a whole to look at what we can do to make the world a better place.
The branding masterclass part was done by looking at various celebrities - not my favourite group of people in the world but Naomi rightly pointed out that they are all masters of self-branding. The first example was Puff Daddy / P Diddy (etc.) - I think he could rename himself anything he wanted and people would get on board with it, no matter how ridiculous. The takeaway from this is not to be afraid to rebrand where needed, but also not to be afraid to build upon an existing brand.
Jordan was next under the microscope - surprisingly we can all learn something from her and that is to not be afraid of self-promotion. Jordan is probably the best example of this with the seemingly endless variety of ways she manages to get herself noticed. I don't think I'll be launching my own magazine anytime soon but the concept of deciding how you want to be noticed and who by is very powerful indeed.
Finally Naomi set her sights on everyone's favourite mockney, Jamie Oliver. Jamie is probably best known for his work on projects like Jamie's School Dinners, Fifteen and Ministry of Food. What links these projects is that they all benefited others and the lesson here is that we can work for the greater good at the same time as helping our own branding. Just because a project helps others, doesn't mean there's nothing in it for us. Naomi is a good person to attest to this, having done a lot of work for charitable organizations.
Naomi followed that up by extolling us to look for problems in the world that we can use our skills to solve. I agree that we spend a lot of time on the web trying to solve what are relatively minor problems, when there are people struggling to find clean water or food to eat. Imagine what a difference we could make if 600 people each made a small commitment to solve a "real" problem!
Travis Schmeisser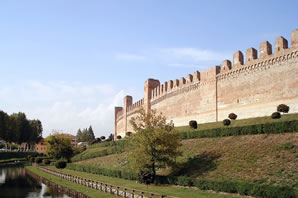 I must admit that I didn't know much about Travis before New Adventures, but the title of his talk - "We Used to build Forts" - alone was enough to pique my interest.
Travis thinks that the web industry has lost some of the creative spark that it used to have, and that we need to rediscover our sense of self-expression through our work.
I can personally relate to this - it is all too easy to get bogged down doing the same thing over and over again and forget why we loved working on the web in the first place.
Travis went on to share ways in which he feels we can recapture the energy and enthusiasm of those early days, with lots of short-and-sweet snippets to take home.
One that really resonated with me was "loosen up" - I've written in a similar vein before but Travis is simply saying that not every piece of work is going to be a masterpiece. Another was "make for the sake of it" - things like Strong Bad never really served a purpose other than being entertaining, so why not do something creative just for the fun of it? It doesn't even matter if other people ever see it, just making something is enough to get your creativity flowing.
Robbie Manson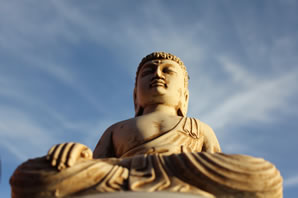 Robbie's talk was titled "The Mindful Designer". For Buddhists, mindfulness is very important on the path to enlightenment and Robbie's talk showed that to be true for designers too.
The idea is that just by being mindful of our design processes, we can produce better work.
For example, if working in a team, the earlier we open up to our team members, the earlier we get to benefit from their experiences. Or by getting away from the screen and experiencing "positive disruption" we can change the way we think about our work.
Robbie used lots of great examples to illustrate his points and to be honest I'm finding it hard to do his talk justice so my recommendation is to take the time to watch the video - it's well worth it!
Trent Walton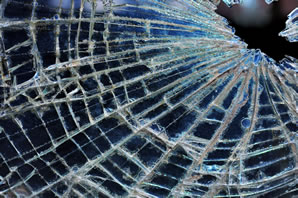 Trent is another of my design heroes so I was particularly excited to see his talk and it didn't disappoint.
Trent's talk was titled "Break Everything" and centred on the value of breaking the rules for the sake of progress. By breaking the rules we can discover what is possible, then we can develop our understanding of it, and then we can improve it.
Essentially by breaking the rules we're pushing things forward, so we should seek out new and exciting ways to do so.
Developing understanding may not always be a walk in the park but it's necessary. However the fun we can have while breaking the rules in the first place more than balances it out.
I thought Trent's talk was an excellent complement to Travis' - if you're going to create something for the sake of it, why not break the rules at the same time and see if you can come up with something really groundbreaking?
Cameron Koczon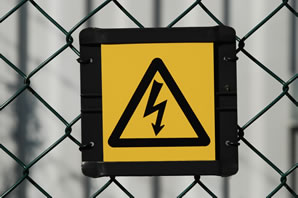 Cameron, perhaps better known as Fictive Cameron, named his talk "The Potential Impact of Design".
The impact of design can be broken down into three separate but related segments: elicit emotion, induce action and effect change.
The idea of designing to create emotion has had a lot of attention lately - the idea being that if you can create an emotion in your audience, they are more likely to act - for example by signing up to your service, or donating to your charity. If you get enough people to act, you can actually effect real change in the world.
The main focus of Cameron's talk was how we as designers can use that idea to either find something to fix and create a startup to fix it, or join an existing startup and use the power of design to help them fix their problem.
A good piece of take-home advice was that a lot of people are afraid to do this kind of thing because they're afraid that they know nothing about business and are worries about competition. Cameron used an anecdote that most electric fences are actually switched off most of the time - the cattle learn that the fence is electrified and know not to go near it again. Once the cows have learned this behaviour, the fence works just as well when switched off. Cameron explained that the two fences of experience and competition also have no current, and that if we take the risk we will find that neither of those obstacles is insurmountable.
Denise Jacobs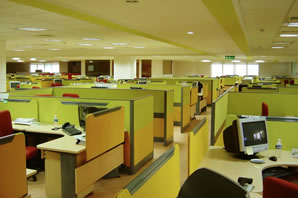 Next up was Denise, whose talk was totally different to any other talk I've ever seen at a conference.
Titled "Your Brain on Creativity", Denise part-narrated, part-acted a story involving a disembodied brain trapped in office-cubicle hell and a mysterious man who shows up and liberates the brain from its bindings and shows it how to be creative again.
The main take-home from Denise's talk for me was that you can't force creativity. Ever had a great idea in the shower? That's because when our brains are relaxed, they're more likely to be creative. Techniques like just taking a few deep breaths or laughing at something are enough switch that "creative brain" on and get the ideas flowing.
Denise also noted that fear suppresses creativity - if we're worries about getting things wrong, we're not going to create anything. This resonates with me personally due to my attempts to worry less and do more and it's nice to know I'm on the right track.
It was definitely a memorable talk, personally I found that the story element made the salient points stick in my head much better than a "normal" talk - kind of like the old "memory palace" trick that mentalists have used for centuries to perform astonishing feats of memory.
Frank Chimero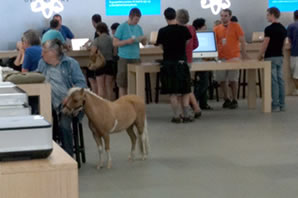 Finishing off the day was Frank, who first came to my attention with his project The Shape of Design - a Kickstarter-funded book on the "why" of design rather than the "how".
Frank's talk was perhaps the most philosophical of the day, with plenty of great soundbites on the role of design and our role as designers in the world we inhabit.
For example: the tiny pony. A tiny pony is an incredible thing that we take for granted. The phrase itself stems from the time Frank saw a tiny pony in the Apple Store and everyone else just acted like they couldn't see it. It's always useful to be mindful of the tiny ponies in our world - for example the fact that you're reading this article at all. To reach you it's been converted into a digital format, split into lots of tiny pieces, whizzed down some long, thin pieces of metal and glass (perhaps halfway around the world!), been reconstituted into the single document and displayed on your screen.
Frank's talk ended with a really powerful quote - "The world is not yet done. Lucky us" - while we are shaped by the world, we can also shape the world. What a great way to end an inspiring day!
Winding down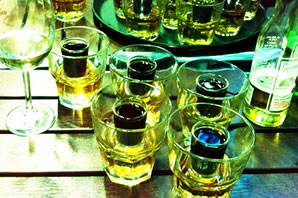 As before, the afterparty for the event was at the Escucha club and as before a generous bar tab helped get the conversations flowing, not that it needed much help after a day jam packed with conversation points.
It was great to catch up with old friends - some of whom I hadn't seen since the first New Adventures - and I managed to meet and chat with some new people too, including most of the speakers which was great - everyone's so approachable and happy to just chat, if you've never had the guts to just go up to someone you really should try it.
All in all
It should be obvious by now that I had a thoroughly enjoyable time in Nottingham - the New Adventures team more than lived up to their own high standards.
The only bad thing about New Adventures is that it has to end, and it's a bit of a downer on Monday morning to be sat catching up on emails and doing everyday stuff when you're still buzzing from the event and itching to get out there and change the world!
Posted on Thursday, 2nd February 2012.
Feedback
Sorry, feedback is now closed on this post, but please feel free to get in touch if you would like to talk about it!
Kris

Thanks Andy, glad you enjoyed the writeup - yes, a lot learned indeed!