Hi! I'm currently reworking my site, so although this content is still online things may change or look odd. Please get in touch to find out how I can help you!
My first conference

Last week, I attended my first conference, New Adventures In Web Design.
The Run-up
Just over 6 months ago, the venerable Simon Collison announced his first foray into the world of conference-hosting. It promised to be "carefully curated; chock-full of integrity, opinion, and fresh content, with an emphasis on shaking things up and challenging convention".
These lofty ambitions were enough to get me interested. As a conference newbie, I had often looked at the buzz generated by events like DIBI and wished the funds were available to make it down there myself. However New Adventures was priced at just £80 for early birds — incredibly affordable when you consider all the hard work and investment that must go into putting on an event of this scale.
So having taken the plunge, I discovered that many other newbies were doing the same thing. The biggest worry I faced as a conference newbie was that I'd be sat on my own in a strange place with no-one to talk to — so I got chatting to a few other people on Twitter which meant there'd be at least a few familiar faces.
If you're considering attending a conference or other event, but unsure due to this aspect — don't hesitate. Sign up, then hit Twitter and search for others in the same position. It's almost guaranteed there'll be a whole bunch of friendly types out there who'll be more than happy to chat with you before, during and after the event. Half the fun of a conference is the social aspect, and by default everyone attending has at least one thing in common. If you're a bit shy, now is the time to shake off the shackles — you won't regret it.
The Conference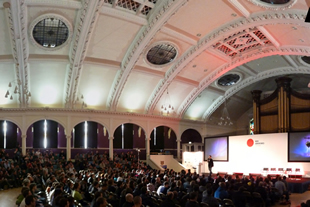 So, on the 20th January 2011, we all sat down in Nottingham's spectacular Albert Hall, filled with tea, coffee and anticipation.The queue stretched out the door and around the corner — an influx of late arrivals held up proceedings for a short while but once they had been registered we were away. The speaking lineup consisted of ten excellent designers, each of whom had just over half an hour to fill. There had been some debate before the event that it was "just the same old faces" but as a newbie, the chance to see so many of my influences in one place was fantastic.
One thing is for certain, the talks certainly weren't "just the same old talks". Dan Rubin dissected the language of web design, Mark Boulton issued a call-to-arms for what he calls "A New Canon" of design, and Sarah Parmenter analysed the psychological reasons behind successful designs, drawing from research into subjects like rapid cognition and sensation transference — all before the first tea break! Other highlights included Jon Tan taking a journey deep into the brain to consider the emotional response humans have to certain design elements and Veerle Pieters sharing in great detail her quest for inspiration.
The talks were excellent without exception — all discussed high-level concepts rather than getting bogged down in code, meaning that everyone could take something away from each topic. A quick check on Twitter after each talk showed that the delegates were busily tweeting soundbites and take-home quotes as well as posing questions directly to the speakers, which really felt like being part of a hive mind — a very inspiring feeling if you haven't experienced it before.
If you're attending your first conference, I would say not to bother taking your laptop/iPad into the hall. If you want to make notes use an old-fashioned pen and notebook, but try to spend as much time as possible just listening and thinking. Most speakers will put their slides online or provide them on request, and a lot of conferences now video the talks too so you won't miss anything.
The Social
Perhaps the reason for this buzz was the community feel of the whole event. Everyone I met and spoke with was friendly and enthusiastic, even at 7am around the breakfast table! Having travelled up to Nottingham with Ant on the day before the conference proper, we met up with Matt, Paul and Alex in town before heading to the Erskine Bowling event. When we arrived, the entire top floor of the bowling alley was full of people — some bowling, some just propping up the bar.
The sight of roughly 200 people can be pretty daunting if you don't know that many of them. The best thing to do in this situation is to take a leap of faith and just say "hello" to people. If you recognize someone from Twitter, or you read their blog — say so! Remember, at any given conference there will likely be a lot of people in the same position as you. Everyone was approachable and happy to chat. As well as helping to practically drink the bar dry(!), we managed to meet up with some more Twitter buddies before heading off to bed for a few hours' sleep before the big day.
As registration opened as 8am on the Thursday, Ant and I headed down for breakfast at around 7. Being based in the main conference hotel, the Holiday Inn, we were soon joined by others. Having met Toby at the bowling, we also got chatting with his comrades Jamie (plus Lion), Ben, Shane and Andy over toast and strong coffee. It turned out they also had a few newbies in their midst so it was good to start the day sharing our musings on what we expected from the conference itself.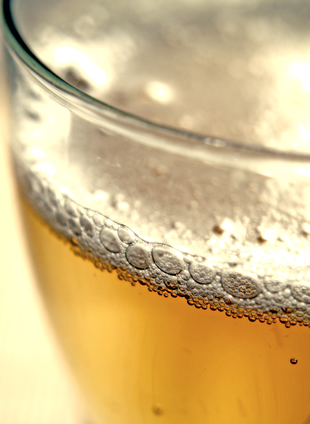 After the talks were done and dusted, it was time to hit the town. Our first priority was to get some food, so we joined a large group from the hotel who were heading to Tamamanga. The large group had formed because of an open invite — if you see someone issuing an open invite to dinner or drinks — take it! Don't be shy — the whole idea is to meet people you may not otherwise get to meet. We took up about half the restaurant and there was a lot of lively discussion. I squeezed in between Ben and Marc who I later learned are behind the excellent Neutron Creations — it's highly unlikely I'd have got chatting with these guys at the afterparty had I just grabbed something to eat elsewhere.
Having enjoyed an excellent curry, we all wandered across town to Escucha, the venue for the afterparty. On arrival I discovered that your conference badge was your entry ticket — something I hadn't realised before and if anyone announced it, I missed it — so it was lucky that I happened to have it in my pocket! But make sure you keep your conference badge on you if attending a delegates-only party, to avoid any issues.
Once inside, we took advantage of the very generous bar tab and started mingling. I got to chat about HTML5 with Remy Sharp and managed to talk to a few of the speakers about their talks. These people are highly-regarded for two very good reasons — they do excellent work, and they are genuinely great people. The afterparty is the perfect place to go and meet the people whose blogs or books you read in a relaxed setting. Don't worry that you'll be disturbing people — after all, the main reason people go to the afterparty is to socialize, so they generally want to be approached.
If you're not sure how to approach someone, a sure-fire way is just to say hi, introduce yourself and say why you know of them — be it following them on Twitter, having read a book they wrote, whatever. If you get down to a discussion about something, great — but if the conversation stalls at that point, it's fine. Just politely move on and no-one will think any less of you.
Likewise, if you happen to spot anyone on their own looking lost, it never hurts to just go up to them and spark up a conversation. Either they're in a similar position to you as a newbie and not really knowing anyone, or they'll be waiting for someone to bring them a drink from the bar. If they're a newbie they'll be glad of the company, if they're waiting for someone else — that's another opportunity for an introduction.
Wrapping Up
I hope this post will serve as encouragement to anyone who's considering a conference but feeling a bit unsure. The best advice I can give is to just go for it — it's very, very unlikely you'll regret the decision. My experience at New Adventures was overwhelmingly positive, and from reading the subsequent blog posts and twitter feedback it seems that a lot of others feel the same way.
If I could only offer three words of advice to another conference noob, they would be "make the leap". The process of attending your first conference can be daunting — right from the financial commitment of paying for a ticket to the process of finding people to hang out with while you're there. But the money and energy you expend before and during the conference will be paid back many times over. Not only do you get a unique learning experience, but you'll make friends, gain inspiration and perhaps get started on a project or collaboration that really helps to advance you as a professional.
Got questions about attending your first conference? I'd be delighted to talk via comments, on Twitter, or over email!
Albert Hall image by Magrolino. Beer image by Patryk Specjal.
Posted on Wednesday, 26th January 2011.
Feedback
Sorry, feedback is now closed on this post, but please feel free to get in touch if you would like to talk about it!
Nice read, Kris.

A lot of developers and 'geeks', if you will, are quite shy. If you're going to a conference, don't stay in your hotel room - get out there. Tag along ;)

Kris

Thanks guys!

@MrQwest - it was definitely the most social part of the trip, next time we'll just have to make sure you stick around!

@Phil - absolutely -the easy option is to stay in the hotel and watch TV, especially if you're a bit nervous, but making the effort is so worth it. Sometimes you just have to be a bit bold - it's definitely something that gets easier with practise.

Hey Kris, a very well written piece!

I totally agree with everything above, It was a great day.

Kris

Thanks Shane - it really was a pleasure meeting and hanging out with you guys :)